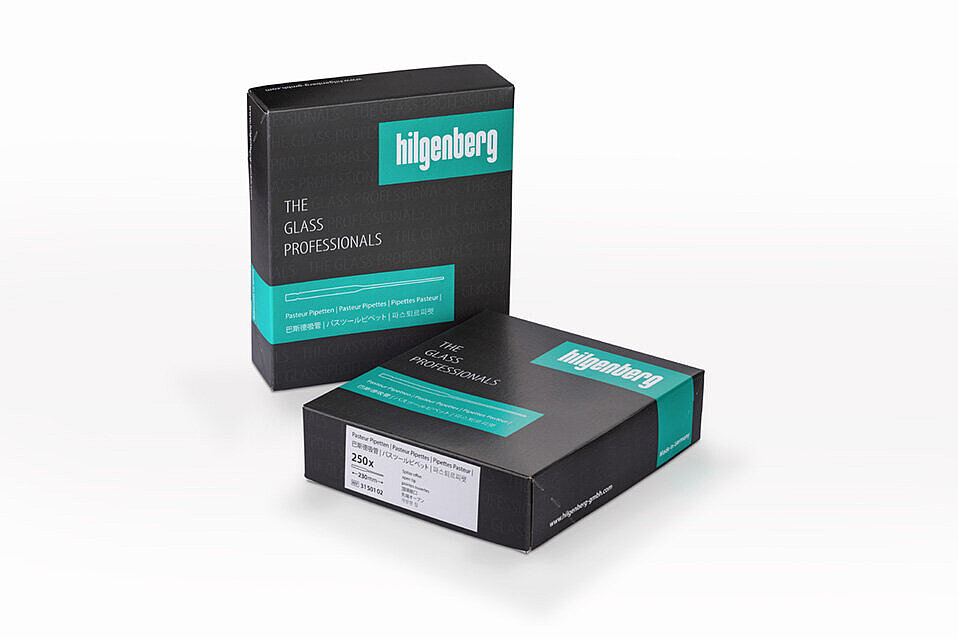 For more than 30 years, Hilgenberg has been supplying its customers with glass Pasteur pipettes of the highest quality from our own in-house production facilities in Germany. A top-quality product that meets all the requirements of working in a laboratory.
In addition to our standard Pasteur pipettes, we also offer individual solutions tailored to your specific requirements. For example, a filter plug made of cotton can be added to all pipettes. This provides additional security when pipetting.
Tip open or closed? It's up to you! We generally supply the pipettes with open tips. However, they can also be left closed in order to protect against contamination. Using a special ceramic blade, which of course we also supply, the tip can then be opened just before the pipette is used.
Cleaning processes often involve the use of strongly alkaline or acidic cleaning agents. Compared to the standard plastic Pasteur pipettes, our glass pipettes are resistant to most solvents and cleaning agents, as well as acid and alkaline solutions. During steam sterilization, in particular, the stability of the glass pipettes is a clear advantage as the pipettes are additionally exposed here to pressure and high temperatures.

During the intake of non-aqueous samples that evaporate when temperatures reach 100°C, plastics can lose their dimensional stability, become soft and start bending. A typical steam sterilization process reaches temperatures of 134°C, while temperatures can reach 180°C during hot air sterilization. As our glass pipettes are heat resistant and can be heated at far higher temperatures than plastic pipettes, sterilization is not a problem. Pyrolytic cleaning is also a short-term option for our pipettes, despite temperatures here reaching 500°C.

Furthermore, glass does not react to organic material, such as somatic cells or even germ cells. This is particularly useful in the field of in-vitro fertilization. Even in small structures, glass retains its shape when exposed to high temperatures.

Advantages at a glance
Resistant to a number of solvents and cleaning agents, as well as acid and alkaline solutions
Mechanically stable (do not bend, unlike plastic Pasteur pipettes)
Slower advance of liquids (tip not completely straight)
Suitable for mouth pipetting (insertion of filters possible)
Suitable for sterilization using heat, steam, wet heat, EO (ethylene oxide), plasma (gas mixture), and high pressure
Suitable for gamma sterilization (with several types of glass)
Our standard pipettes are packed in boxes, inside which one side can be folded out in order to make it easier to remove each pipette. The base of the box is a smooth cardboard, designed to ensure the greatest possible cleanliness of our products. One box contains 250 pipettes. Four boxes with a total of 1,000 pipettes are packed together as one unit in a larger sturdy box.
Pipettes in small packaging for the laboratory
For workspaces with limited storage capacity, we also have smaller packages containing 26 pipettes. The flat cardboard packaging allows for the easy removal of the pipettes and a more organized workplace with less space taken up on the lab bench. They are also ideal for storage in the Laminar Flow Box.
The following variants are available:
Length: 150/230 mm
With/without cotton filter
Non-sterile/gas-sterilized
Hilgenberg pipette bulbs
The Hilgenberg pipette bulbs are perfect for the effortless suction and dispensing of smaller quantities.

Ceramic blade
Our diamond-tipped ceramic blade is for opening closed pipettes just before they are used. The blades can be fixed to our blade holder, thus ensuring their safe application with one hand. Further information about our glass cutting tools can be found here.

Diamond wire
Our diamond-coated wires are perfect for shortening our pipettes. The spring effect of the wires means very little pressure is required for scoring the glass, thus reducing the risk of breaking.